November 2022
The season so far had been filled with so many ups and downs, but yet Daniil felt uneasy about his current predicament. Did he deserve better?
It wasn't a feeling that had just sprung upon him overnight. Not at all. In fact, it was just last week that Daniil had sneaked off from Vladivostok training early to attend an interview; citing reasons of feeling under the weather to put suspicion to bed.
Daniil felt horrible for lying about this opportunity. But he knew it was the right time to develop himself as a manager and tour Russia. Taking the 13-hour train journey to Khabarovsk, Daniil arrived late Tuesday night and checked himself into a hotel and battered down the hatches for the night. He didn't dare leave his room in case of an unfortunate meeting with the press.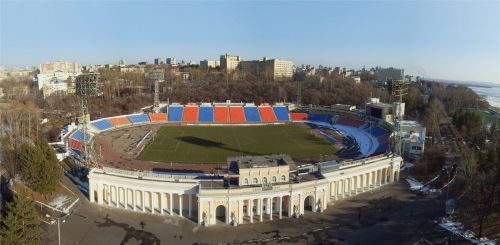 Lenin Football Stadium. The location of his meeting with the board over the vacant managerial role; previous manager Sedyshev was sacked after leaving the club lingering in the relegation zones and the board needed a vast improvement to align with their goals. The club was predicted to finish 9th and there was a lot of ground to make up.
Daniil knew that this was going to be no easy interview, especially with his lack of experience and badges – Vladivostok wouldn't let him study for his National B Licence out of fear of losing him to a bigger club. As expected, it was a grilling interview as to how he could overturn the team's fortunes with little experience, and if he was only looking for a new job because of the reputation he was building for himself in such a short space of time.
As Daniil reached closer and closer to the end of the interview, the questions then opened up to himself and to see what would be possible if he was appointed. Immediately, Daniil wanted to start studying for his B licence; this was so important to him in getting more experience. The board didn't even let Daniil finish his request as they agreed immediately, and this was something that sat in Daniil's thoughts. If this club would be willing to put him through it with no questions asked, then was the Vladivostok board just being stubborn and selfish?
Daniil had agreed with the board that whatever finance position the club was in, and how that flowed through to the footballing department, it would be plenty following his appointment if he landed the job. But he would request a small budget to bring staff over from Vladivostok – Daniil didn't spend all summer bringing in a better network of staff for him to turn his back on them after 6 months.
And that was that. 13 hours on the train for a 2-hour discussion with the board. And Daniil left in high spirits. He thought the interview had gone relatively well, but he was no mug. He knew there were other candidates out there vying for the same job, and that the board would have their clear favourite. It was now a waiting game whilst trying to focus on turning things around at Vladivostok.
20th November 2022
Back home, and back in the dugout for the visit of Ural, Daniil was trying to focus on the game but his thoughts were a million miles away. He was contacted by the board at Khabavorsk just the previous evening concerning potential staff changes, and he knew that could only be a good thing.
Reverting back to a 4231 for the game against Volgar, where Vladivostok edged out a 1-0 win, Daniil kept this formation in place as he racked up another 3 positive results – 1-1 draw against Baltika, 2-0 winners against Zenit-2 and 2-1 winners against Spartak M-2. The journey to Ufa was not as pleasant, falling short to a 3-1 defeat. Daniil felt that this formation gave Vladivostok the best chance for the remainder of the reason; regardless of whether he was in charge or not after today.
Immediately, Vladivostok came out of the traps and took a shock lead against Ural inside 2 minutes, and was unfortunate not to be 2 ahead when a goal was chopped off for a marginal offside. The recently relegated Premier Division side then began to work through the gears and scored 2 of their own, before Solomakha grabbed an equaliser on the stroke of half-time.
However, Ural then flexed their muscles, and powered back in front a minute into the second half, before completely controlling the remainder of the game. A killer blow of a fourth goal came as Vladivostok pressed for an equaliser, and it was all over. The result left Vladivostok on 26 points, just outside the relegation zone thanks to one extra game won over Metallurg Lipetsk. But Daniil was unmoved. No matter what he could say to the players, he didn't really know if it would have any desired effect. Mentally, Daniil had already packed for Khabarovsk.
21st November 2022
Daniil had left Vladivostok late Sunday night to try and avoid any unwanted attention from the media or fans. He received a call a couple of hours after the game asking if he would be able to make the journey north to Khabarovsk as the board had elected to pursue Daniil as their next manager. Daniil didn't need to be asked twice. The boardroom politics wasn't for him to sort, so he left that to the capable hands of the SKA Khabarovsk board to deal with and he packed his stuff before contacting his staff members that he would be taking.
And then in the morning, Vladivostok News got wind of what was happening and began to put the feelers out there, before SKA Khabarovsk confirmed it for everyone:
Vladivostok fans were fuming, gathering at the stadium demanding answers and rightly so. At a critical point of the season, Daniil was on the off, but he had bigger things to worry about. This was his legacy, after all, he needed to move on for better and for worse.
Immediately, Daniil got to work on reviewing the squad he was inheriting to understand where it had been going wrong for his new employers. A lot of promise and ability in the squad, there is no reason why SKA Khabavorsk finds themselves in a relegation dog-fight:
Daniil was optimistic that he could steer SKA Khabavorsk away from relegation and close to the top half of the table. He had inherited a good enough squad, and with £1,200,000 to spend, he could plug gaps fairly quickly.
It was time for Daniil to prove he is more than capable at this sort of level. It's showtime.