In the middle of Vladivostok, a monument overlooks the Zolotoy Rog Bay; the old foundations of the city's military outpost centuries ago. The monument was erected to honour one of Russia's most prominent statesmen, who was vital in Russia's Far East history.
Nikolay Muravyov has his own monument in his own park in Vladivostok, but it is important to recognise why this man is celebrated in the manner he is. Muravyov became the East Siberian governor-general in 1847; winning the hearts of the Far East residents with his generous nature and doing what was right for the people. Not only did he look out for the people's welfare, but he also had his nation's best interests at heart. His most important accomplishment for Russia was returning the left bank of the Amur River to the Chinese, whilst regaining control of lands along the Amur and Usurri rivers, without the need for armies and war. It was then at this point Muravyov stumbled into a peninsula and bay, and the city of Vladivostok had its initial beginnings.
A well respected Russian general who was responsible for the Russian expansion into the Amur basin and shores of the Sea of Japan, he shared one thing slightly in common with this blog; instead of going from East to West, he went from West to East. Muravyov was born in St Petersburg, and although his method of exploration was via ships, he still managed to get around Russia taking in the sights and expanding the empire.
---
7th June 2021
20-year-old Daniil Muravyov began his journey back home after his class at the Far Eastern Federal University. His passion for oriental studies was slowly dwindling away, questioning if this was a study he wanted to continue down on; he had just failed one of the seminar's biggest tests and doubt was creeping in.
Desperate for inspiration and guidance, Daniil took the opportunity to clear his head, by going for a walk through the city to weigh up the pros and cons of dropping out of university at this stage. Currently, the only thing keeping him there was his involvement with the university's football team – Daniil had suffered a terrible ACL injury when he was 14 and decided to not play football again. To cope with his loss of football, he became more involved in the coaching side of the game, and this was helping him to keep his mind off failing classes, but he knew it was a short-term fix and he had to do something about it. Soon.
His first stop was the Muravyov-Amursky monument and admire in silence, both the view and Nikolay's accomplishments. Knowing that he was of Muravyov blood, Daniil wanted to live up to the family name and go down in Russia's history like his ancestor, but he couldn't find the drive in his chosen field. Would he need to depart this path and pursue something else? Perhaps the armed forces like Nikolay? He knew his leg would limit his options in the armed forces, but he could perhaps work his way up through the operational planning. Daniil shrugged it off. He wasn't ready for a career in the armed forces, nor would he ever be.
To rub salt in the wounds, Daniil had always been envious of the sights visited by Nikolay, through wars and general travel. Daniil was keen to travel himself, however, money was tight being a university student. In his eyes, it would take a miracle for that opportunity to present itself, and with the way his luck had been, it wouldn't be happening any time soon.
Daniil left the monument not feeling better nor fully satisfied, and decided to stretch his legs via a walk towards the bayfront. It would be here where he would reach the Sport-Kompleks Dinamo – home to the Vladivostok's only football representation Dynamo-Vladivostok. Although knowing that taking in the football action he would feel envious, Daniil loved having the opportunity to take in both games and training, as it helped him develop as a coach. Picking up small details from people that have devoted their lives to the game, Daniil only saw it as a necessary cost to his mental welfare.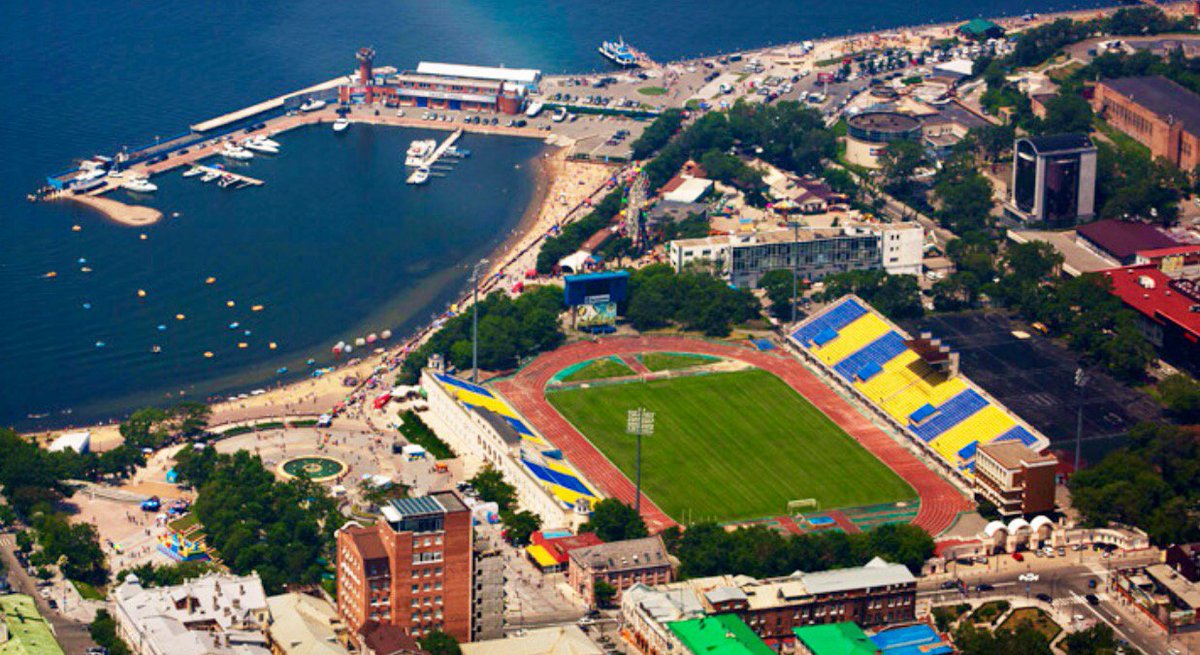 Upon arriving at the stadium, Daniil sensed that something was not quite right. He managed to get a good enough view overlooking the park and could see current manager Sergei Boyko flailing his arms around with players aggressively reacting back. Boyko had only been in the job for a couple of months, but the local media was reporting that he had fallen out with several players surrounding their futures and playing time.
In a strange turn of events, Boyko just stormed off from the centre circle and left the stadium completely. The players were unsure of what to do next, being left managerless at the start of a session, and left with a bag of balls and cones. Daniil couldn't believe his eyes. With that being over Daniil decided to get out of the rain and head on home; he had been out long enough and had a lot to weigh up over the coming days.
Later that night, Vladivostok News broke the news that Sergei Boyko had walked away from his post as manager citing "egotistical challenges and no support" surrounding the club and the club would languish and disappear once again. The reporter breaking the story, also reported that the club would begin the interview process for Boyko's successor immediately, whilst advising they would prefer a local person in charge for their first season back in the FNL 2. Daniil thought this could be too coincidental for his liking, but given his current feelings, why not throw his name in the hat? He has some experience in being involved at a football club level, albeit a university team. He watches games religiously. Currently, he was at a crossroads in life. This could be the chance of a lifetime, and like his ancestor, he had to throw himself at it.
I am Daniil Muravyov. This is my story.